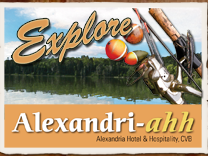 Celebrate New Year's Eve in Alexandria
Looking for fun this New Year's Eve? Check out these fun events in Alexandria.
Are you looking for something fun to do this New Year's Eve? Look no further. The following events are being held on December 31. Pick which celebration is right for you and ring in the New Year with friends and family in Alexandria, Minnesota.

A Night to Remember

This event will be held at the Garfield Diner at 107 State Street South, in Garfield just a short drive from Alexandria. From 6 p.m. to 10 p.m., enjoy a special New Year's Eve menu. Chef Dano has over 40 years of experience, and he and his staff are known for providing visitors with amazing food and great customer service.

Cost for dinner is $23.95, and there will be wine, beer and BYOB set-ups available. Want to know more? Call at 320-834-2660.

New Year Celebration

Sixth Avenue Wine and Ale located in historic downtown, will be having a celebration, beginning at 9 p.m. Come ring in the New Year by celebrating every hour starting at 9 p.m. with noisemakers, champagne and Auld Lang Syne. "Finestra" will be playing and Chef Paul is preparing a special menu for the evening.

The menu features a variety of entrees including pork tenderloin with roasted red onion and bleu cheese butter, shrimp scampi pasta and baked chicken breast topped with artichoke, spinach and bacon in a cream sauce.

There will also be smaller plates featuring flat bread pizzas, crab and shrimp fondue and more. Dessert lovers won't be disappointed. The dessert menu has 9 options and is guaranteed to have something for every sweet tooth. For more information or to make a reservation, please call 320-759-2277.

Laugh Away 2012

Looking for a laugh? Head to the Broadway Ballaroom at 115 30th Ave. East. The evening begins with a full 3 course dinner buffet, followed by a show featuring three different comedians. Dave Mordal, Darlene Westgor and Mary Kelly will all be performing, and it is sure to be a hilarious evening.

Cost for dinner and the show is $40. For those coming for the comedy show only, tickets range from $20-25. For tickets or more information, please call 320-763-6565.

There is a lot to do on New Year's Eve in Alexandria. Take your pick of these events or find your own fun at one of the local restaurants, bars or hotels for a long-weekend getaway. Accommodations are available online.

Explore Alex -Alexandria is the place to go for a great getaway! Whether you're more comfortable sunbathing at the lake, relaxing over a glass of wine, or browsing in a country boutique, you'll feel at home in Alexandria. So make plans to visit us today. You'll be warmed by hometown hospitality that's been a tradition for more than a century.

Alexandri-ahh. Relax. Refresh. Recharge. Repeat.
To find out more information about Alexandria and all it has to offer, visit: www.explorealex.com

There is no offer to sell, no solicitation of an offer to buy, and no recommendation of any security or any other product or service in this article. Moreover, nothing contained in this PR should be construed as a recommendation to buy, sell, or hold any investment or security, or to engage in any investment strategy or transaction. It is your responsibility to determine whether any investment, investment strategy, security, or related transaction is appropriate for you based on your investment objectives, financial circumstances, and risk tolerance. Consult your business advisor, attorney, or tax advisor regarding your specific business, legal, or tax situation.